QuickBooks Help
QuickBooks Training
Products
LOCAL CPA APPOINTED TO NATIONAL COUNCIL

Danny Allday, CPA, to advise leading financial software firm on products and services most needed by accountants and their clients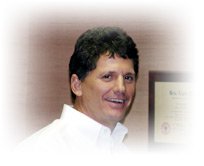 METAIRIE, La — Aug. 20, 2004 — Have you ever dreamed of helping steer the direction of a billion-dollar company? Local Certified Public Accountant and business expert, Danny Allday, CPA recently earned that honor.

Choosing from thousands of candidates, Intuit® Inc. selected Danny to its 16-member Accountant and Advisor Customer Council. Intuit®, which develops popular financial software such as Quicken, QuickBooks and Turbotax for accountants and business owners — formed the council to gain deeper insight from experts who use the products almost every day.

"Intuit® is fortunate to have Danny on board as an active member of our customer advisory council," said Rich Walker, Director of Intuit® Accountant and Advisor Relations. "Our focus is on developing the very best products and services for accountants, advisors, and their clients. With Danny providing imaginative and practical counsel, we believe that Intuit® now has a real advantage in developing and delivering next-generation solutions."

The Accountant and Advisor Customer Council meets periodically at Intuit®'s headquarters in Mountain View, California, part of fabled Silicon Valley, as well other company locations throughout the U.S. Members review and discuss accounting and technology trends and issues, as well as provide input on new software products and web-based services. All members of the Intuit® Accountant and Advisor Customer Council serve a one- to two-year term.

Danny Allday, CPA, founder of the Allday Consulting Group, has been helping entrepreneurs with making their business more profitable for over twenty-five years. The Allday Consulting Group has offices in Metairie, Baton Rouge, Lafayette, Slidell and Mandeville, Louisiana.

"Intuit® demonstrates that they are truly customer-satisfaction oriented by continuously taking the pulse of the accountants and customers they serve," said Allday. "The Intuit® Accountant and Advisor Customer Council is just one of the many ways that Intuit® goes about getting important feedback. I greatly appreciate the opportunity and look forward to serving on the Intuit® Accountant and Advisor Customer Council."

About Intuit® Inc.
Intuit® Inc. (NASDAQ: INTU) is a leading provider of business and financial management solutions for small businesses, consumers and accounting professionals. Its flagship products and services, including QuickBooks®, Quicken® and TurboTax®, simplify small business management and payroll processing, personal finance, and tax preparation and filing.

Founded in 1983, Intuit® has annual revenue of more than $1.7 billion. The company has over 7,000 employees with major offices in 12 states across the U.S. and offices in Canada and the United Kingdom. More information can be found at www.intuit.com.
[Return to previous page]
[Return to top of page]